A Lovely Adult Beverage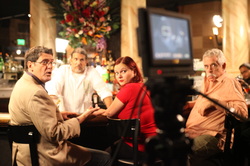 Written by Leo Maselli and David Archer
Directed by Leo Maselli
Produced by Ilena Ferrer
Starring Carlos Baron & Riz Gross
Director of Photography Michelle Prevost

---

Synopsis
This is a story about Carlos, an aging Chilean poet and hedonist who, in search of inspiration, has spent his life pursuing unorthodox romantic adventures. One evening, while drinking at his favorite local bar, he witnesses a blind date going sour. The couple in question, an awkward and inexperienced young man and a stunning young woman named Tina, just isn't hitting it off. The young man seems to be uncomfortable with the fact that Tina is disabled, arriving in an electric wheelchair. Carlos immediately recognizes the opportunity for a foray into new territory, but something unexpected happens as he attempts to seduce the young lady."


Award Winning screenplay to Award Winning film
In 2008, at the Inaugural Caligari Narrative Award Ceremony, CineSource Magazine awarded "First Place" to the winning script, "A Lovely Adult Beverage" by Leo Maselli (aka Skip Bellevue) and David Asher. The screenplay was rated "runaway best" by all four judges - scriptwriting teacher Denise Bostrum, writer James Dalessandro, film teacher Toney Merritt, and noted director Rob Nilsson. The film, slated for immediate production via CineSource awarded funds, became embroiled in a legal dispute between the parties and never entered production.

Seven years later, in March of 2015, legal issues behind them, Producer Ilena Ferrer leads an all-volunteer cast and crew, assembled through Scary Cow, San Francisco's indie film incubator, to complete the film. "A Lovely Adult Beverage" was shot on location at the beautiful Martuni's bar in San Francisco. Ms. Ferrer describes the film as cinematically captivating and emotionally compelling.

The film premiered 3/7/2015 at the 25th Scary Cow Showcase at the Castro Theatre in SF, winning a Member's Award. It is currently in the film festival circuit.